Guide For Wearing Ralph Lauren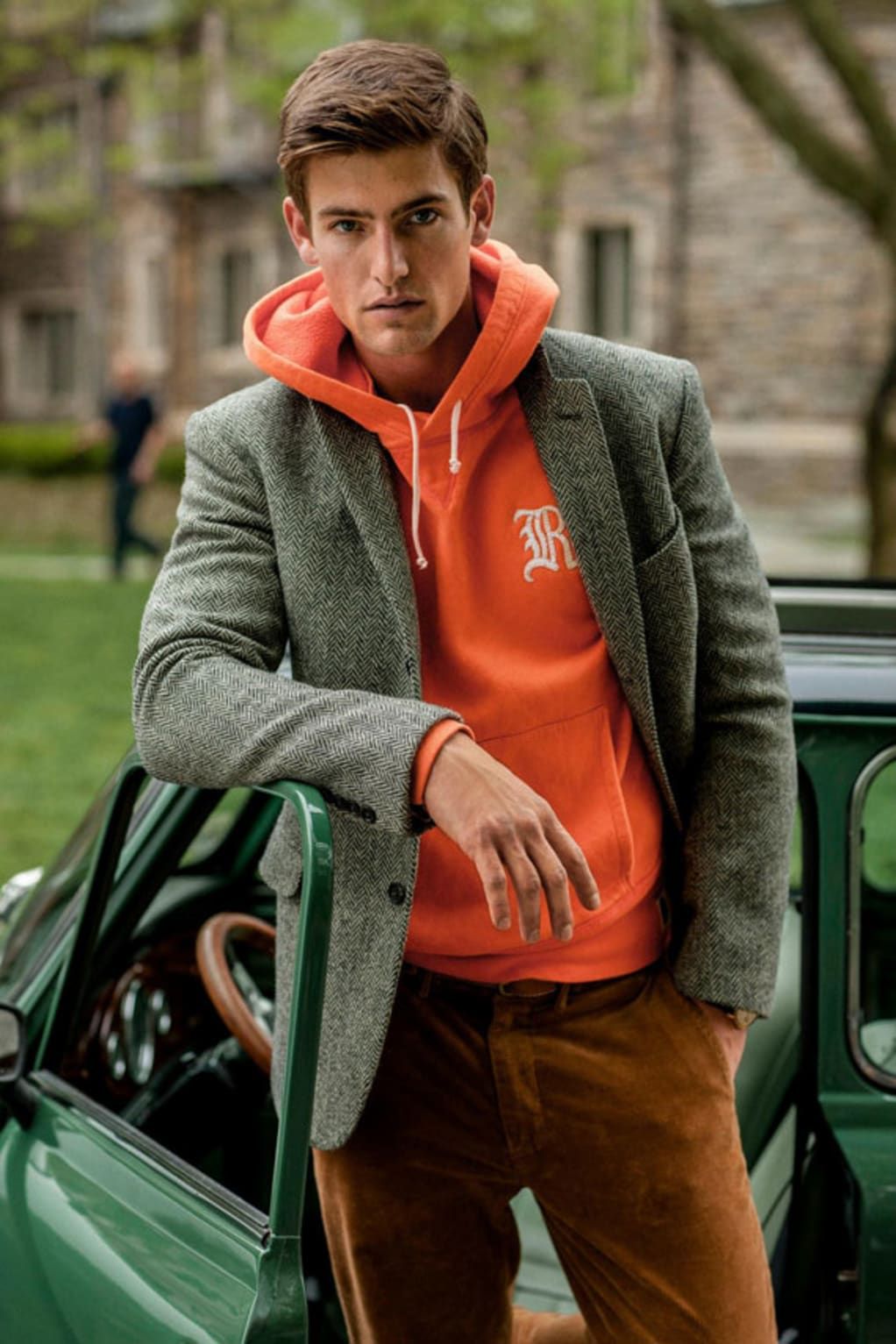 The Essential Guide to Men's Polo Shirts
The polo shirt has not only become a staple requirement in most men's wardrobes but, over time, has also earned its place as a fashion classic. You'd be hard pressed to find a man who doesn't own at least three or four of these comfortable and versatile pieces. Smart and sporty, this style icon is infinitely versatile, which is why it can be your ultimate ally.
 
The first polo shirts date back to the 19th century, when they were worn by the British Army and named after the game of polo, which originated in India. Back then, polo shirts were made out of thick, long sleeved cotton and looked much like any other shirt but with one crucial difference – the collars were adapted, so they could be buttoned down to prevent flapping whilst galloping on horseback!
 
It was this modification that was noticed by John E Brooks, the grandson of the founder of Brooks Brothers. He quickly spotted the potential of the buttoned-down collars and went on to apply a similar look to Brooks Brothers dress shirts. Now labelled 'the most imitated item in fashion history', the Brooks Brothers still claim that their buttoned-down shirts were the original polo shirts.
 
Sport and the polo shirt
In order to really get under the skin of the polo shirt and its journey into our hearts and wardrobes, we need to look at the crucial developments that took place between the polo shirt and the sporting world. A certain Henry Lacoste played a key role in the advancement and adaptation of the polo shirt as we've come to know it today. After rolling up his shirtsleeves to play tennis, Lacoste went on to shorten the sleeve entirely, prompting a new dawn in comfortable, practical sportswear.

 
This idea was picked up by another tennis legend, Fred Perry, who adapted the tennis white polo shirt further still by stitching in his famous logo, as opposed to ironing it on. When teenagers in the 1950s adopted the polo shirt as a fashion item things really started to pick up. By the 1970s Ralph Lauren was using the polo shirt as his signature piece, branding his new casual wear company simply 'Polo'.
The first Fred Perry polo was created in 1952.
The 21st Century polo shirt
But enough of the past. Let's fast forward to the 21st century and the man of today. With so many polo shirts and brands to choose from, how can you possibly decide which one to choose and how to wear it well? At Mr. Draper, we're here to give you all the advice and guidance you could possibly require on all matters polo. So, let's take a deep breath and dive into the essential guide to men's polo shirts together, but first let's take a look at how much Fred Perry has changed.
The fabulous thing about the polo shirt is that it suits ALL body types – enhancing the parts that you like to showcase yet subtly disguising the parts that you may be less keen on. A polo shirt always fits well (unless it's way too big) and lends itself well to layering up with other items, such as a sweater or blazer. Plus, there's a real range of choice to suit all budgets. From designer to high street, there's a polo shirt out there for everyone, if you know where to look.
Which fabric suits which body?
We've already mentioned that polo shirts suit all shapes and sizes. But, as well as size, it's also necessary to consider the type of material the shirt is made from before making your selection. Pique cotton shirts are made with a cotton yarn with a slight ribbing in it. Piqué polos are best suited if you are heavier-set with a wider physique because the textured fabric hugs the body without accentuating the less flattering areas of chest and stomach.
Pique Cotton

If you're a little less body conscious, then cotton and cotton blend polo shirts are the perfect choice. This kind material is softer and more comfortable than pique cotton. A cotton blend polo shirt has a sleek, modern look that is great on its own or worn underneath a jacket.
 
As a general rule, it's better to stick to the plain polo shirt when you're first trying them out and perhaps to also experiment with more muted colours. White, black, navy and grey will offer you the most versatility as they work with most skin tones and body types. When you're ready, then by all means start to widen your horizons by checking out the wide range of coloured polo shirts on the market and even working up to stripes and patterns. We'd advise choosing a colour that complements rather than clashes with your skin tone or hair colour. Remember not everyone can pull off yellow or fuchsia pink, but if you're feeling confident then go for it!
The sky's the limit when it comes to what colours Polo's come in.
In or out – that's the question!
When it comes to tucking in or hanging out, there are some very simple rules to follow. If you're sporting your polo without a jacket then, unless you're a professional golfer, don't tuck your shirt into your pants or trousers. It really doesn't work! That said, if you are wearing a jacket with the polo underneath then you could tuck in the front part of the shirt just a little so it partially covers your belt. This looks stylish because it breaks up the look without overdoing things. Oh, and when it comes to logos then small is beautiful. Either go for a small, subtle logo or avoid altogether.

Do's and don'ts of polo shirt fashion
Do wear a fitted polo shirt but don't make it too tight. If you find there's a lot of slack material on your body then by all means go for a smaller size. Good quality polo shirts are made from lighter materials like cotton, so they should drape nicely over your body without showing too many lumps and bumps!

Don't wear anything underneath. Polo shirts look best next to the skin. Plus, in warmer climates you'll stay much cooler this way. Vests and undershirts are a complete 'no-no'. Wearing anything underneath almost certainly guarantees that excess material will slip out from under your sleeve or crumple at the collar.
 
Do tailor your choice to your height. Generally speaking the tail of a polo shirt shouldn't hang down any further than midway past your behind. The tennis tail look of the past is definitely not the way to go in everyday life – you can trust Mr. Draper on that!

Don't turn up the polo shirt collar. Ever. Popping your collar only works if you're a teenager, so if you are concerned about sunburn and want to protect your neck, slap on some extra sun cream but don't use your polo shirt as a sun shade.
Don't be this guy, it's not "cool".

We've already mentioned the logo issue and tucking in, which are both pieces of advice that we would urge you to follow. Other than that, just enjoy yourself and start to pick out polo shirts that you not only like the look of but will also suit your body. At Mr. Draper, we're all set to help you select stylish polo shirts that don't go out of fashion.
 
Collars and pockets
And finally, before we leave you in the capable hands of our stylists, we'd also like to mention the small matter of collars and pockets – crucial details in your choice that can make all the difference to the overall look. Polo shirt collars tend to either be soft or tailored more like a shirt. Soft collars do tend to curl up at the edges, so you may wish to opt for a collar with an additional lining sewn in, which helps the collar to lie flat.
 
Polo shirts with pockets tend to look saggy very quickly. Plus, the pocket itself is pretty useless as a practical addition because anything you may put inside it will be visible and potentially pull the shirt out of shape. As a general rule of thumb, we'd say go for a smooth fronted polo with no pockets.
 
And that's it! Our essential guide to polo shirts is complete. Remember that you can wear a polo shirt with any combination of trousers/pants – chinos, jeans and even suit trousers. When paired with a polo shirt, each looks good and can easily be dressed up or down to suit. Whatever your preference of polo shirt, Mr. Draper is always on hand to help you find the colour and style that suits you best. With a range of shirts to choose from, we're more than ready to introduce you to the joys of this versatile and always in fashion item.
 
Whether you're a seasoned polo shirt aficionado or more of a polo first timer, we can guide you in the right direction. From sports club to conference and from date night to playing with your kids in the park, at Mr. Draper we can show you a whole new way to sport your polo and adapt the choices you make to a range of different occasions.
 
So, why not get started on your search for the ultimate polo shirt with Mr. Draper today.